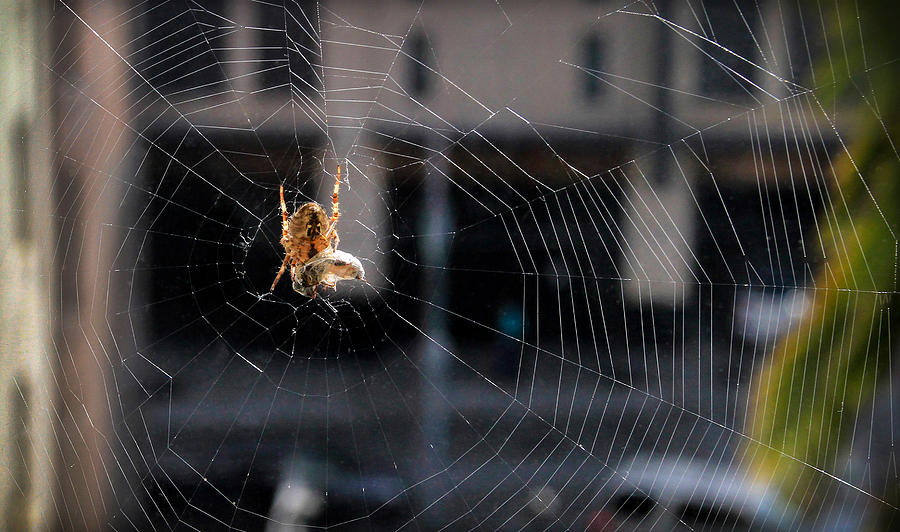 Dimensions
3528.000 x 2088.000 pixels
This piece is not for sale. Please feel free to contact the artist directly regarding this or other pieces.
Click here to contact the artist.
Title
Spider With Egg Sac
Medium
Photograph - Photograph
Description
Spider With Egg Sac is a photograph captured when this spider lady crawled up from the garden below and decided to build a web on my window in San Francisco. I humored her the first day, then when I woke up the next day to find this (an egg sac) I decided her fate. I found a way to swish her, the web and her egg sac off of my window. I still swear I heard a spider scream as she and the lot fell to the garden below.

More on spider reproduction:

Reproduction
A male spider deposits his sperm into a sperm web, holding it in his palps. Then he cautiously approaches a female spider. The male spider deposits the sperm into an opening on the underside of the female spider's abdomen. The female fertilizes her eggs with the stored sperm and then lays them into an egg sac. She can hold the sperm of several different males in her spermatheca, which is the internal sperm storage area. Female spiders will sometimes eat the smaller males during mating.

Egg Sac
Spiders make their egg sacs with silken threads shaped like a ball. The spider disperses the threads through spinnerets near the bottom of the abdomen. The threads are in a liquid form when secreted and become solid when released into the air. Spiders use these threads not only to form egg sacs but also to build webs and nests, and for travel. The egg sacs can contain hundreds of eggs. After about two to three weeks, the eggs hatch into live spiders. It takes about one year for the hatchlings to reach adulthood.

For more on the spiderlings that later emerge, see: http://animals.mom.me/spiders-reproduce-live-birth-eggs-7404.html



--- COPYRIGHT NOTICE ---
All images on my profile and linked pages are Copyright Bonnie Follett. All Rights Reserved. These images may not be edited, copied, reproduced, printed, distributed, displayed or used in any way, in whole or in part, without my written permission. My images are not in the public domain.
Statistics
Viewed 129 Times - Last Visitor from Cupertino, CA on 11/17/2022 at 11:24 AM